CFBISD vCampus will not offer courses online this summer. Below is a vendor CFBISD has used as our online provider. eSchool Plano ISD at
http://k12.pisd.edu/eschool
You may register directly with them for your online course needs. Before enrolling in an online course you must get approval from your home school.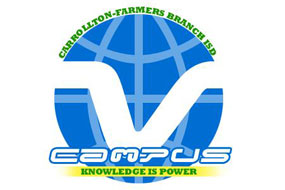 CARROLLTON-FARMERS BRANCH ISD VIRTUAL CAMPUS
"High School Courses Through Independent Internet Study"
The CFBISD Virtual Campus is a web-based learning initiative designed to meet the needs of Carrollton-Farmers Branch ISD students. The mission of the program is to provide extended and flexible learning opportunities for students and educators through web-based programs. The independent Internet access will enable students to take high school courses online, on their own time, wherever access is available to the Internet and a computer. Courses for credit are aligned to meet the Texas Essential Knowledge and Skills (TEKS) requirements.
Credit Reporting for Virtual Course
Before students may enroll in a CFB Virtual Campus course, they must have counselor approval that the course meets graduation requirements and will be accepted for credit from their home campus. Seniors who are enrolled in online courses to earn units required for graduation shall complete the course and submit the grade for recording at least 7 days prior to the graduation date in order to be eligible for graduation at the end of the term. Students currently enrolled in CFBISD will be allowed to take a maximum of two virtual courses at a time. Students currently enrolled in CFBISD may earn a total of three credits through correspondence or virtual courses offered from course providers outside CFBISD. Grades earned in virtual courses shall be used in computing class rankings when certified CFBISD staff members are assigned as teachers of record. Grades from online courses from providers and teachers outside CFBISD will not be used in computing students GPA and class ranking. The Superintendent or campus designee may exercise discretion in waiving limitation on the courses taken on an individual basis. All district policies related to academic honesty and participation will apply to online courses.
All course credit is granted at the discretion of the student's home high school in accordance with district policies. CFBISD Virtual Campus will issue a completion certificate to the registrar's office of the student's home high school for notification of credit earned. The student and home campus counselor will receive a letter from the Virtual Campus office notifying them of the student's grade status upon completion of the course.
Tuition and fees are the responsibility of the student. Tuition costs are established by the course providers. Payment and reimbursement policies are conducted through the course provider as outlined by the terms of the registration agreement. Some courses may require the purchase of additional materials and textbooks not included in the tuition fee.
Equipment:
Access and maintenance of the equipment necessary to operate the online course is the responsibility of the student. The online courses are designed to be taken off campus. Students and parents should be knowledgeable of the minimum hardware and software configurations required by the course provider before registering for a course.