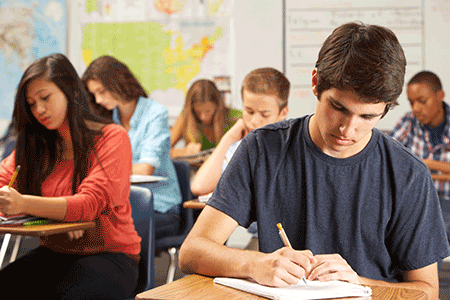 CFBISD Night School is an excellent opportunity for students to earn credits outside the regular school day.  Night School is open to all currently enrolled CFBISD high school freshmen, sophomores, juniors, and seniors.
Earn up to two half credits a semester.
Get ahead to make room in your schedule for other activities or courses.
Retake a course to regain credit.
Each class will meet one night a week on Tuesdays or Thursdays from 4:30 p.m. – 8:00 p.m. at the Educational Services Division Complex (ESDC) Building C at 1820 Pearl St., Carrollton 75006.  Classes will start the week of January 24, 2017.
Registration Schedule for Spring 2017
Registration will be held at ESDC Building C 1820 Pearl St., Carrollton, TX 75006.
Tuesday, January 10,  4:00 – 6:30 p.m.
Wednesday,  January 11, 4:00 – 6:30 p.m.
Thursday,  January 12,  4:00 – 6:30 p.m.
Payment and registration form due at registration.  Counselors must verify and sign the registration form before a student may register.
Course Offerings*
Government
Economics
Algebra 1
English 3
English 4
Algebra 2
PLATO lab
*All course offerings are contingent upon sufficient enrollment.
For more information about Night School, contact your home campus counselor or Jill Speckert at speckertj@cfbisd.edu.