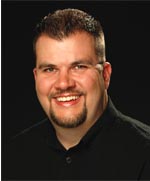 Greetings Perry Eagles!
My name is Adam Toy and I am honored and humbled to be the principal at the historic DeWitt Perry Middle School.  I am returning to DeWitt Perry where I served as an Assistant Principal for many years.  While gone, I served as an Assistant Principal at R. L. Turner High School and most recently as the Associate Principal at Ranchview High School.
I received a Bachelor's Degree from Abilene Christian University and earned a Master's Degree in Education Administration from the University of North Texas.  I have also completed coursework towards an Educational Doctoral Program at the University of North Texas.
My wife Amy works as an Instructional Specialist within our school district and we have two beautiful and talented daughters who attend CFB schools as well.  We are a true CFBISD family and plan to be for a long time.
I am passionate about student achievement and helping students find their drive, motivation, and grit to succeed.  Perry Middle School is a pillar of the community where amazing things are happening every day.  It's a place where students thrive academically, socially and emotionally.  Our fine arts programs, athletics, and other elective and extra-curricular programs give our students' self-esteem and a place to belong.  Our students take pride in their school and we, as educators, take pride in them and their successes.
A key part to our success is the involvement of our whole community in the learning process including families, neighbors, community businesses, and community leadership.  I encourage you to join our PTA and take an active role in the support of our students and school building.
Should you have any questions, please do not hesitate to call or email me.  I look forward to hearing from you.
Thank you,
Adam Toy
toya@cfbisd.edu
972-969-4400