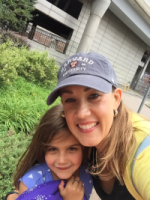 Principal – Brooke Hall
Welcome to Lion Country!  This is my fourth year as principal of R. L. Turner High School.  I've been in C-FB for 21 years.  I taught 7th and 8th grade Reading and Language Arts for six years at Vivian Field Middle before moving into administration.  I was an assistant principal at Blalack Middle School, Vivian Field Middle School and R.L. Turner High School, then served as principal of DeWitt Perry Middle School for three years.  I truly love working with the students, parents and teachers of this district.  There is no place I'd rather work!
I have a Bachelor's degree in English from the University of Texas. I have a Master's degree in Educational Administration from the University of North Texas.
I have a daughter in 3rd grade at Stark Elementary. In my spare time I like to read, run, spend time with family and friends, go to the movies, and shop.