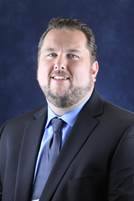 Hello and welcome to Central Elementary! I am so excited to be able to serve the students, families and staff of Central Elementary. Educating children is truly my passion in life and I'm the luckiest man in the world because I get the opportunity to do this everyday. I have been in CFB for the past eleven years as a teacher and an assistant principal. Through my experiences I've learned how important it is for the students I serve to be achieving at the highest levels possible. This is a tall order, but one we can achieve through hard work and collaboration. They say it takes a village to raise a child and we fully embrace that concept at Central. We are here to serve our families and give our students opportunities in the future. Our doors are open and we are here to serve, let us know what you need.
Little bit about Mr. Atchison:
Married to a wonderful lady, Jennifer, with whom I have two amazing kiddos, Ethan and Ella.
Lover of all things Star Wars, but especially Yoda.
Obsessed with Legos and all those awesome minifigures.
Avid Reader and life long learner.