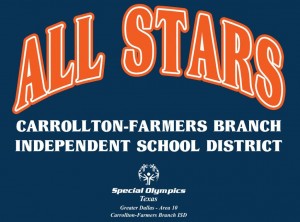 What started as a small initiative to enrich the lives of some special students has made a big impact on the lives of many. In 1999, Carrollton-Farmers Branch ISD formed an "All Star" team of 16 Special Olympics athletes. The program has grown to over 230 students and is a model for other districts to aspire. The annual track and field meet draws athletes from other districts that cannot afford to host such an event due to limited coaches and budget. This is the event of the year for Special Olympics athletes and volunteers alike.
C-FB ISD supports the Special Olympics with the help of proceeds from the annual Kacie's Run. Funds from this event provide opportunities for special education students to participate in the Olympics at no cost to them. The experience enriches their lives by promoting relationships and building confidence.
The C-FB ISD special education staff has dedicated itself to making this program and the students flourish and grow. The Special Olympics is a positive experience for all who participate. The number of high school student volunteers continues to rise every year. Their participation in this event is a vital part of its success.
Many parents have individually expressed a desire to become more involved in the C-FB ISD Special Olympics program but are not sure how to start. From these discussions the idea of forming a "Families Committee" was born. This group would function like a "booster club." If you are interested in becoming a part of the Families Committee please contact:
Rob Mehnert
Daytime 214-553-2986
Evening Phone 214-808-7030
Email: rwmehnert@sherwin.com
Mike & Margot Cairnes
Phone 972-304-0618
Email: mcairnes@mindspring.com