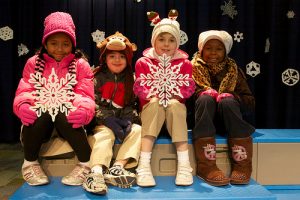 How to find out if schools are closed
Cold weather has finally arrived, bringing with it the chance of icy roads and conditions.  If those conditions make it necessary for C-FB ISD schools to be delayed or closed for the safety of students and staff, the district has procedures in place.
If schools are delayed or closed due to inclement weather:
Families and staff will be notified through the district's mass notification message system called Blackboard Connect.
A Special Alert email newsletter will be sent to subscribers advising them of the decision.
An announcement will be posted on the district's website, www.cfbisd.edu, as soon as the decision has been made.
We will post messages on our Twitter feed and Facebook page.
C-FB ISD families and residents are advised to listen to local radio or television stations for updated weather reports.
Local media outlets also post information on their websites, so families and other residents may want to check those sites for the latest weather information.
Media Notified about Inclement Weather
We will inform television and radio stations. It is their decision whether to air the information. Media outlets notified include:
Local Television Stations Notified:
KDFW-TV Channel 4
KXAS-TV Channel 5
WFAA-TV Channel 8
KTVT-TV Channel 11
Univision 23
Local Radio Stations Notified, include:
KRLD
KVIL
WBAP
KDMX
KHKS
KZPS
KDGE
KEGL
KTRA
CBS Network
Metro Radio Network
Total Traffic Networklol
The district does post closing information on its TV station. CFB-TV is now digital. It can be viewed on a digital TV on channel 15.5 without a cable box. If you have a cable box, you can view CFB-TV on channels 95 & 98 on Time Warner. It is also available on Verizon Channel 38.