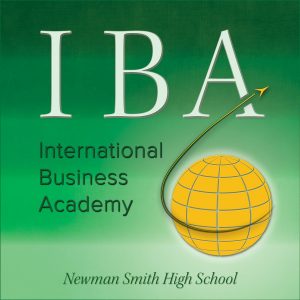 Creating Future Global Business Leaders
The International Business Academy (IBA) at Newman Smith HS, Carrollton-Farmers Branch ISD successfully accomplishes its mission of "giving students a foundation in marketing, economics, finance, language, and the cultural aspects of international business to become successful in their chosen area of business." IBA students are equipped to determine a more specific college major through a challenging curriculum, real world experiences of domestic and international travel, paid or unpaid internships in a field of their choice, and partnerships with business, industry and post-secondary education. Students are exposed to the vast field of careers associated with business, and are prepared to compete with peers entering post secondary study, the world of work or an entrepreneurial challenge.
The curriculum offers our students, grades 9-12, a challenging business curriculum specifically to educate them for a competitive environment. Required courses include four years of English, math, science, social studies, and three years of foreign language, Principles of Business, Marketing and Finance, Human Resource Management, Entrepreneurship, Accounting, Business Law, Global Business, Macro Economics and a choice of one of the following: Advertising or Finance.  Through partnerships with local colleges and AP testing, the IBA student has the option of graduating with +28 dual and college credit hours. Every student must take Pre-AP or AP course(s) each year and is required to complete a paid or unpaid internship with a company/industry of their choice.
Real-world experiences are abundant since the Dallas Fort Worth Metroplex is an important location for international trade and commerce in the global economy. The IBA takes advantage of these resources for its students through annual field trips to visit local colleges and local businesses such as Atlas Copco Drilling Solutions, American Airlines Center, American Leather Manufacturing Company, BNSF, Bureau of Engraving, Market Street, City of Carrollton – Economic Development Department,  Dallas Cowboys Facility, Dallas Market Center, Dallas Federal Reserve Bank, Hewlett Packard, Essilor, Fox Sports News, FC Dallas Soccer Club, Frito Lay HQ,  JC Penney HQ, Magic Production Group, Marriott Corporation, Microsoft, Remac Inc., Texas Instruments and Texas Motor Speedway, Wal-Mart HQ, Southern Methodist University, Texas Christian University, Texas State University and University of Oklahoma, University of North Texas, and University of Texas at Dallas.
Students take advantage of fundraising opportunities to participate in travel to Austin TX, Norman OK, Bentonville, AR, Chicago, New York City, Washington DC, and San Francisco.  International trips are offered to juniors and seniors and include the destinations of Austria, Canada, Czech Republic, England, France, Germany, Hungary, Ireland, Italy, Spain and Switzerland. Travel includes pre-arranged visits to local businesses, meeting with a company and/or country dignitaries, etc.
Annual Career Days bring the world to the students and include representatives from finance, technology, sales, public relations, operations, business management and human resources who share information about their careers.   The IBA hosts a College Night for the IBA students and parents to meet representatives from prestigious business colleges. The College Night includes the following representatives from Baylor University, Texas A&M University (TAMU), Southern Methodist University (SMU), Texas Tech University, University of North Texas (UNT), University of Oklahoma (OU) and University of Texas at Dallas (UTD). Texas State University (TSA), Stephen F. Austin University (SFA) to learn about the business degrees offered for their careers of choice.
The IBA Advisory Board of professionals from the business world meets twice a year and consists of representatives from Accounting, Chambers of Commerce, local municipalities, finance, hospitality management, human resources, international business, marketing, non-profit sector, public relations, and operations.  Post secondary education representatives include Brookhaven College/Business Studies Division; SMU/Cox School of Business; UNT/College of Business Administration, OU/Price College of Business; and UTD/School of Management.  The board provides input on curriculum and real-world experiences.  They serve as a source or resource for scholarships, internship placements, and participants for the Career Days, speakers, field trips, and travel experiences.
Graduates attend such universities such as Baylor University, Boston University, Julliard School- New York, Indiana University, Northwestern University–Chicago, Loyola University-Chicago, OU, SMU, TAMU, TCU, SFA, Texas Tech, Tulane University, UNT, University of Rochester, and University of Texas at Austin, Arlington and Dallas, Sam Houston State University, William Jewel College, Barnard – New York City, Columbia University and Yale University as well as receive appointments to the Merchant Marines and United States Naval Academy.