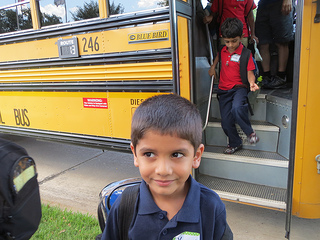 Transportation Services Eligibility Requirements
Bus routes can change quite a bit right before and right after the new school term (fall, spring & summer) begins as ridership must be re-evaluated each time when people move, etc. Changes to these routes will be updated (if needed) on the website as soon as they are available.
Please note, ridership is an unknown factor until school begins, so routes may be updated and adjusted several times during the first few weeks of school as some pre-planned routes may have no riders, while others may have more than the previous year. Updated routes will be posted as soon as they are available.
NOTICE TO ALL STUDENTS AND PARENTS
Per district policy it is a privilege for the student to ride the school bus. The student must live more than two(2) miles from the school to be eligible for transportation services. There are exceptions for academies and LEAP programs and these programs are included with the posted routes. In addition the secondary students are required to display their student ids (badge) when boarding the school bus.
The same rules on campus apply while riding the school bus.
Scheduled stops with no riders after 3 days may be deleted from the route until there is a need to add the stop back to the route. Parents please contact the student's school or transportation department if you have any questions (214) 655-6566. To find your child's stop please check below. Updates are posted as they become available.
Bus transportation for CFBISD is provided by Dallas County Schools.
For more information and employment opportunities from Dallas County Schools, please call them at (214) 655-6566.