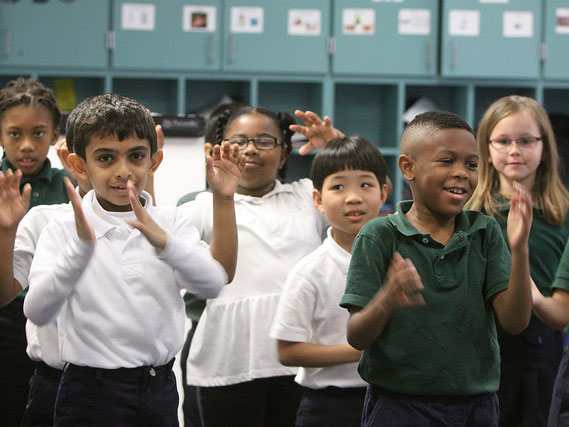 The district establishes standardized dress and grooming guidelines so that instruction and activities are not disrupted.
We expect the dress of all students to meet community standards and school policies with regard to safety, health, cleanliness and appearance.
Some basics to remember include:
Shoes must be worn at all times.
All apparel must fit properly and must be worn in the appropriate manner intended.
Shorts can be worn provided they are not cut-off, athletic shorts, boxer shorts and/or are made of spandex. Skirts or shorts should be no shorter than four inches from the top of the knee or shorts should be no longer than the knee. Shorts must be hemmed and frays must be stitched.
Clothing items with provocative, offensive, violent, or drug-related pictures or slogans as well as those advertising alcoholic beverages or tobacco products should not be worn to school.
Please note that all building administrative decisions regarding student dress are final. Students who disregard the dress code will be subject to disciplinary interventions.
The district's complete dress code is outlined in the annual Student Handbook and the Code of Student Conduct. The Code of Student Conduct is distributed at the beginning of the school year.
After receiving parental input and School Board approval, students at a number of campuses wear school uniforms and/or standardized dress.
Standardized Dress
CFB ISD has schools whose students wear standardized dress. Standardized dress is mandatory at the following schools:
Field Middle School
Long Middle School
Perry Middle School
Blair Elementary
Blanton Elementary
Carrollton Elementary
Central Elementary
Farmers Branch Elementary
Freeman Elementary
Good Elementary
Landry Elementary
La Villita Elementary
Las Colinas Elementary
McLaughlin/Strickland Elementary
McWhorter Elementary
Riverchase Elementary
Sheffield Elementary
Stark Elementary
Parents with specific questions concerning their school's requirements should contact the campus that their child attends.