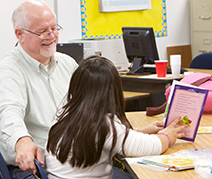 The Carrollton Farmers Branch ISD has enjoyed a rich and diverse history. With over 26 thousand students from all parts of the world the district has continued to challenge young people to reach for their dreams. A large contributor to the success of our students and venerated faculty has been the support of the community and specifically those who volunteer their time and expertise. Volunteers provide the extra attention so desperately needed to support the high level of educational experiences enjoyed by our students. Thank you for joining the CFB family and thank you for the life-changing investment you are making in tomorrow's leaders.
Carrollton-Farmers Branch ISD seeks to create a safe sanctuary for students, free from crime, violence, drugs and abuse. Pursuant to the Texas Education Code, the Carrollton-Farmers Branch Independent School District conducts screenings for any record of criminal history. The district shall obtain the criminal history record of prospective volunteers who will be working with students, including, but not limited to camp counselors, mentors, tutors, field trip sponsors, overnight trip sponsors, any volunteers who will have access to student information, and volunteers who work on a regular basis with students.
Please remember to fill out our online background check.  You must do this in order to attend class parties and other festivities coming up during the school year.  Don't be left out!  THIS MUST BE DONE AT THE BEGINNING OF EVERY SCHOOL YEAR.
Applications may take up to 4 work days to process.  Applications submitted on the day of a field trip will not be accepted.  Please submit applications at least 2 weeks prior to the event.
Please make note of your user name and password so that you can go back to check your status.
It is easy and quick.  Thank you!