Advantage Card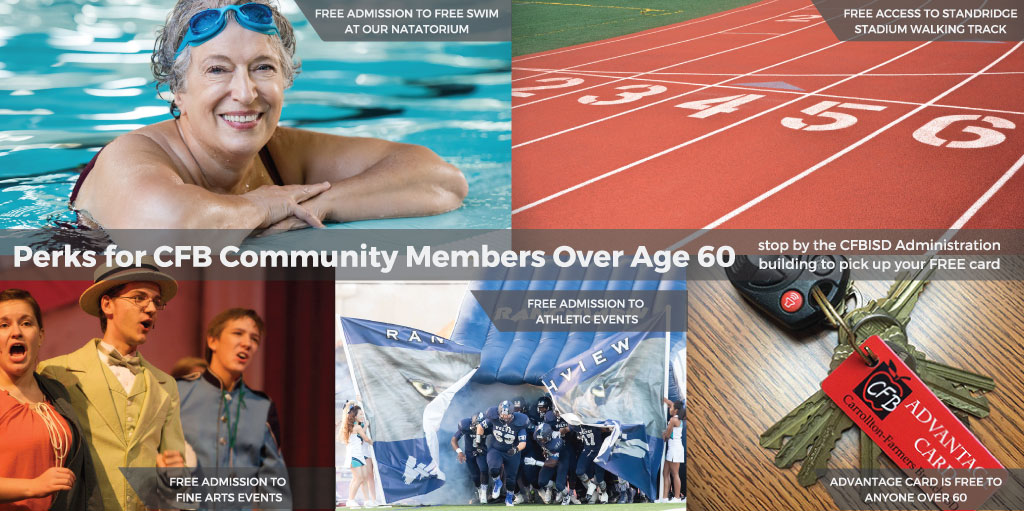 Advantage Card
If you are a resident of the six communities served by Carrollton-Farmers Branch (Addison, Carrollton, Coppell, Dallas, Farmers Branch, and Irving) and you are 60 years or older, you can receive your FREE Advantage Card.
You will need to request your Advantage Card in person at the CFBISD Administration Building at 1445 N. Perry Rd., Carrollton, TX 75006. A photo ID is required to show proof of residency and age eligibility.
CFB Advantage Card holders receive free general admission to school-sponsored activities such as:
Athletic Events
Theatrical Productions
Musical Events (For High School Musicals, contact the campus to reserve your FREE ticket. Tickets are not always available at the door)
Access to Standridge Stadium Walking Track
Public Swim at the CFBISD Natatorium (located at Standridge Stadium)
CFBISD Standridge Stadium and Natatorium
1334 W. Valwood Parkway, Carrollton, TX  75006
972-968-5667
Public Swim Available
Monday – Friday: 11:00 a.m. to 1 p.m.*
Monday – Friday: 5:30 to 9:00 p.m.*
For track access enter through the  Natatorium
Monday – Friday: 11:00 a.m. to 1 p.m.*
*Track/Natatorium may be closed if there is a school athletic event, activity or school holidays.
Senior Citizen Events
Each year, CFBISD hosts events for our senior citizens. Sign up to receive our free email newsletter providing event dates, times and locations
Would you like to volunteer or mentor on a CFB campus? Fill out the information below and we will contact you.